PHOTOGRAPHER
2009 to Present
CONCEPTUAL LOOKBOOK - EDITORIAL - ADVERTISING - COMMERCIAL - FASHION - PORTRAIT - PRODUCT - JEWELRY - Eye for Detail - Lighting Composition - Storytelling - Emotion - Patience and concentration - Strong networking skills
RETOUCHER - IMAGE COORDINATOR - EDITOR
2009 to Present

Available OFFSITE/REMOTE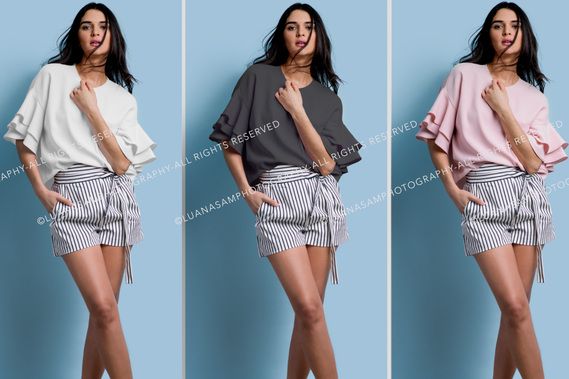 Retouching on-figure and still life fashion images. Advanced knowledge in post-production / re-touching - STRONG Photoshop and Adobe Suite skills - experience placing products into existing Images. Able to create market-ready imagery, animation and video. Organization and maintenance of the image database
Color Correcting - Image Silhouetting - Image Composites - Jewelry - Reflective - Beauty Skin - High Volume Workflow - Batch Editing - Web Optimization - On Figure Styling - Familiarity with RAW format - Multiple colorways - Wrinkle removal - Cropping - Tagging - Adjusting garment lengths - Beauty Retouching - ECommerce Editing - Glamour Editing - Object Removal - Adobe Creative Suite - Color space and conversion to CMYK

Latest Clients Talbot Inc. - Creative Circle - Walmart - Jet
EXPERIENCE

- Fashion Photographer/Photo Art Director/Retoucher - 2009 to Present
Creating and developing a full time business linked with the name of LuanaSam. Working and building trust with model Agencies - based Designers and Creative Artists.
EDUCATION
UNIVERSITY OF PSYCHOLOGY
MASTER in fashion photography 2011
This Master was based on introducing photographers on the real world creating projects from scratch and work all the way to the finished product. I attended different photoshoots following the Art Director through the all process, talking with clients and helping figure out how to deal with last minute setbacks.
ACADEMY of BELLE ARTI —
The main course was based on learning the technique of the old Engraving - Printmaking. Designing and processing the Zink plate until the stamp - Creating packing and designs for logos and books.
Satellites courses attended
Sculpture in plaster and bronze -Drawing Anatomy from still-life to human being -
Graphic and Architecture